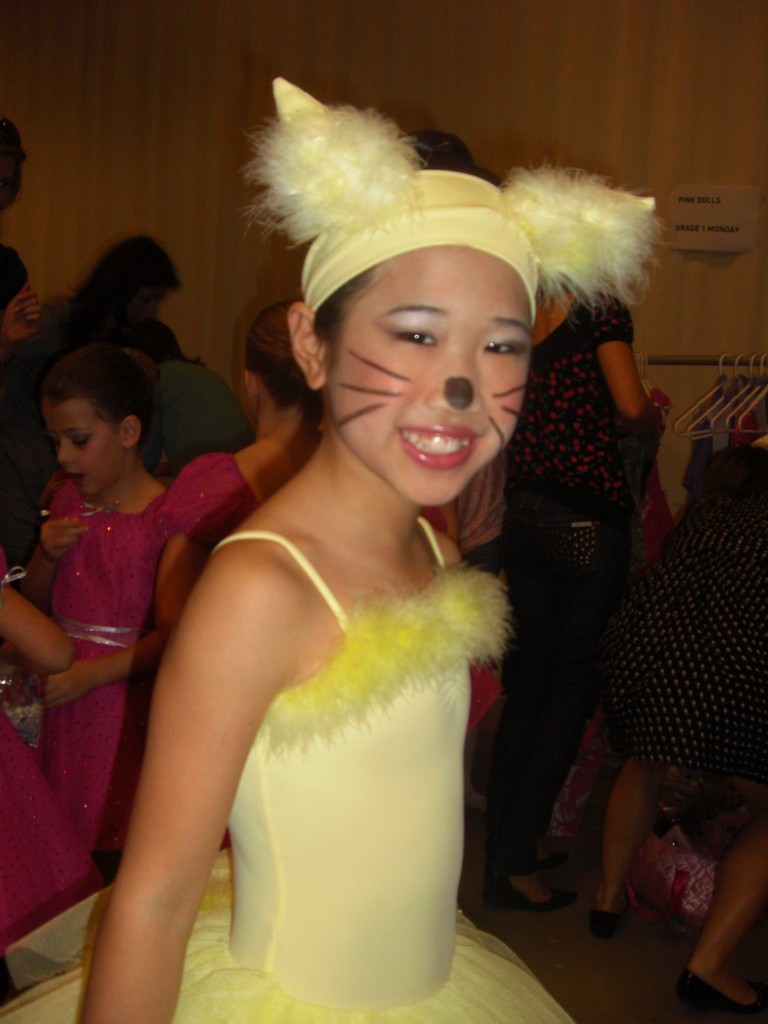 When Xian was 3 days old, a nurse (whom I swear must be her Fairy Godmother) looked at my little angel and commented on her graceful fingers. My immediate response: "Yes, her father plays the piano beautifully." To which she shook her head and smiled with certainty: "This little one will be a dancer".
From that point on, I dreamt of Xian as a prima ballerina. I started Xian in ballet when she was 3. I adored her in pink tutu and ballet shoes. She revelled in her lessons with Miss Jasmine. The annual concerts were a thrill for our Mosman Dance Academy proteges decked out in their pretty costumes of Mermaids, Kittens, Rag Dolls. We were delighted and proud to watch what was far from fine performing arts but a frolicking romp of fun and colour. As she progressed, Xian's poise and bright personality on stage lit up a special place in my heart. I was ecstatic as she continued to dazzle us with her Royal Academy exams: top marks always. I imagined a future of floodlights and Swan Lake with Miss Xian as Prima Danseur.
Bet you have similar dreams of your little girls too!
But Xian had different ideas from me. After enjoying her dancing for six years, it was a shock when Xian told me in she was quitting ballet. My natural instinct was to activate the "Because I said so" option - but stopped myself in time to learn what had changed her motivations.
Xian confessed that she was exhausted. She was a rare person who relished in her school work. Fortunately, despite the mounting work load - that was not her issue. Besides ballet, Xian indulged in diverse extracurricular activities and was determined to continue her violin, piano, singing and gymnastics.
Before I could yield to any self-flagellating guilt, I was awed by how much she had put thought into this decision. As I listened in stunned silence, she assured me that she loved every minute of ballet and all the other opportunities she had been introduced to. However, she had recently found ballet classes becoming a chore. She hadn't had a break in lessons since she was three and felt leaving the ballet for a period would do her good. What astonished me was her maturity of consulting with Miss Jasmine who assured her (and later me when I verified this with her) a couple of years' break will not do Xian any harm. In fact, it may even help her motivation later.
Xian also reminded me phlegmatically that she could continue her flexibility, strength and cardiovascular development in gymnastics.
Wow. Knocked me for a six. I had to stagger back and reflect on what was my intent in keeping her in ballet. In a nutshell, I had encouraged it for reasons of fitness and artistry. Mostly, it was my joy of watching her dance. At some level, I also wanted to believe the Fairy Godmother's prophecy ....Well, it was not to be. Not for now. Fitness and artistry were satisfied through her gymnastics and music. But I sorely missed her dancing.
My story is one of mutual respect and a learning experience for me. Again it was about learning from an unexpected quarter. Xian respected herself enough to stop something that no longer served her. Yet, she took the time to honour my feelings by thoughtfully partnering with me before moving forward with her decision as painlessly as possible. She gave me a chance to seek to understand her rather than push my position. We were both happy with what ensued.
I still miss seeing her dance. It has been over two years now. I am waiting for the opportunity to talk about this with Xian. Perhaps there was indeed something about the Fairy Godmother.
We don't have to push our kids. They will prod us lovingly to learn about their needs. We need to just go with the flow. Here's another way of how parenting helped me understand leadership.
I wonder if you too can recount how you inspire respect from your children, and how you have shown them respect.